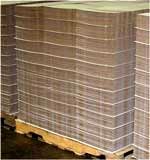 Corrugated Sheets and Stretch Wrap
Corrugated Sheets/Slip Sheets
Corrugated cardboard sheets are ideal for improved product stacking. These corrugated cardboard sheets allow increased capacity per pallet and greater stability. We also supply slip sheets for shipping applications.
Corrugated sheets, tier dividers, row dividers, and slip sheets are all available at A Box Broker Inc. These corrugated sheets, also known as load dividers, are a cost-effective way to separate top and bottom tiers of boxes stacked on a shipping pallet or skid and uneven rows of boxes, protecting the product in transit from being damaged by the product rows coming in contact
with each other. Corrugated sheets are available in 39.5″ W x 48″ L, designed to meet your distribution and shipment requirements.
Corrugated or cardboard sheets can be also be used as inside boxes as dividers or liners. These corrugated sheets can be stacked flat on top of each other to save space. When used, they provide the proper division of layers of shipping boxes and help in protection of the product – effectively increasing the stability and strength of the pallet load.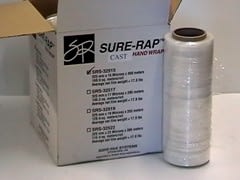 Stretch Wrap
Stretch wrapping film offers an ideal solution for ensuring stability of cardboard boxes and other goods loaded on to pallets or skids during the shipping process. During transportation, ensuring the shipment is secured with tight and constant tension wrap is essential in protecting the shipment.
Containing a shipment of small items or cardboard boxes for shipping or storage with stretch wrap eliminates the need for tape, string, rope, straps, and other conventional securing methods that could damage product surfaces. Narrower width stretch film stretches more than the wider widths while still retaining much of its elasticity properties. This allows the stretch wrap to recover and form-fit the assorted sizes and number of boxes – creating a tight bond. Tape, rope, or different types of strapping does not provide a consistent form-fitted wrap that stretch wrap provides even if the shipment appears to be tightly sealed. A great benefit of utilizing stretch wrap for securing cardboard boxes during shipping is that stretch wrap does this without adhesives. When the stretch wrap is removed, there isn't any adhesive residue left on the boxes.
Our stretch wrap is always in stock and available by the single roll or in cases of four 14″ x 1500′ rolls.