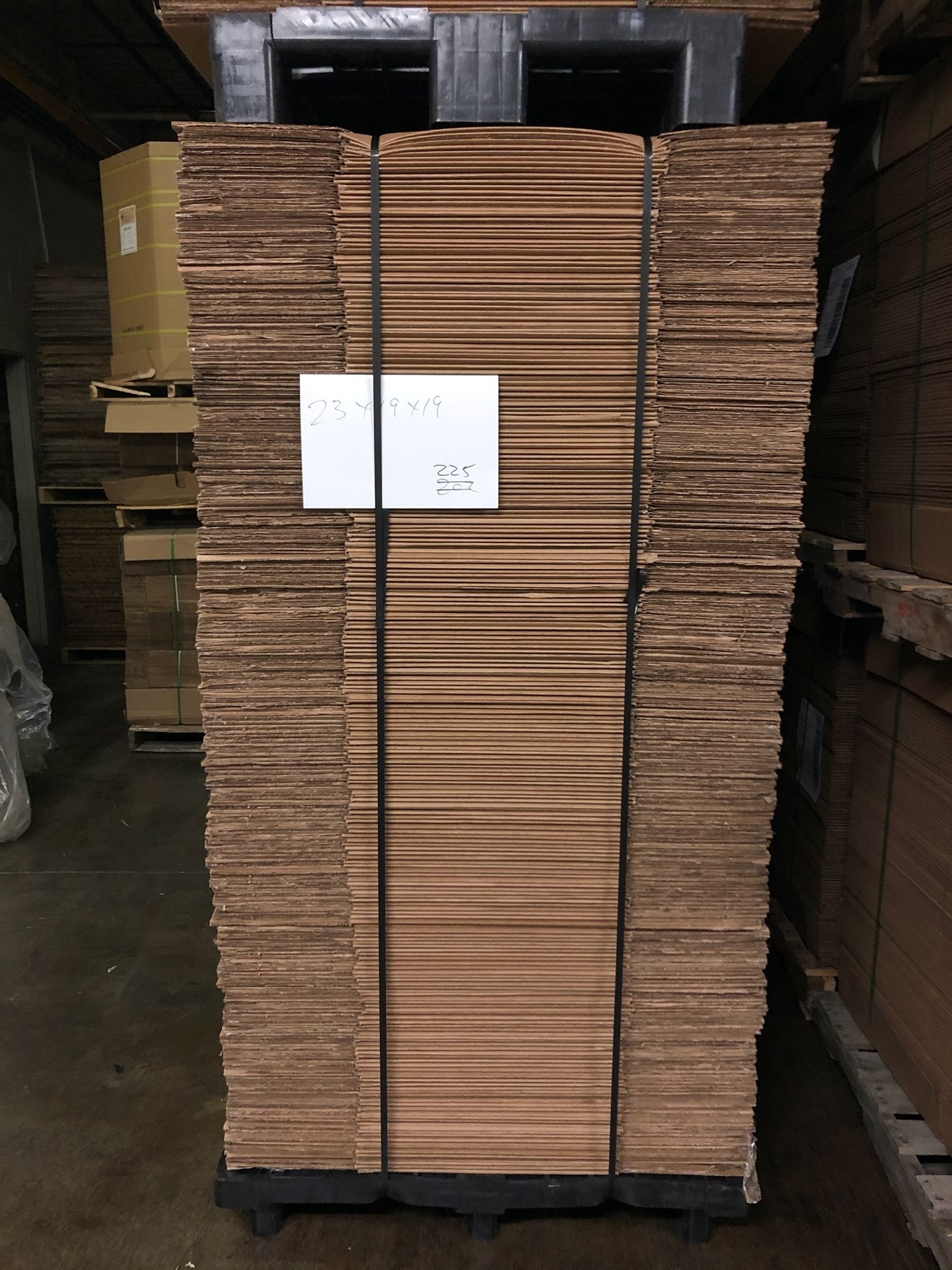 Buy Boxes: (Used)
Used Corrugated and Shipping Boxes

Used cardboard shipping boxes are an easy, affordable and environmentally friendly solution for all of your shipping, packing, storage and moving needs!
Most of our inventory is "once used" corrugated boxes. These boxes have been used once to transport merchandise and then are broken down and shipped to us. We inspect them, count them and palletize them to ensure quality and cleanliness. No damaged, torn or weak boxes will be stocked. These are recycled. We do not resell boxes that have any writing on them, other than the original labels. Tape is removed from both ends of the boxes so that they can be stacked neatly and efficiently. Labels are not removed as this can jeopardize the integrity of the box.
There are thousands of sizes and types to choose from and we can help you find the type of cardboard box that is right for your shipping needs.
Are you located in Pickering, Woodbridge, Ajax, Burlington, Mississauga, Toronto, Oakville, or Newmarket? We offer fast, next day shipping on many orders. For our current inventory of both used and new boxes, see our daily updated inventory list.
If you prefer new boxes instead of used boxes, please see our stock box page for more information on the standard sized boxes we have available at all times. Or you can choose from a variety of new misprinted boxes and manufacturers' overruns, which can be found on our Inventory list. We also carry packaging accessories and supplies, including packaging tape, tape dispensers and all types of protective wrappings.
Does your company throw out any quality of Corrugated Cardboard Box? Used, overstocked or misprinted, job-lot, end of line, single wall, double wall, triple wall or bulk shipping gaylord cardboard boxes? A Box Broker Inc. wants to buy your boxes! To learn more, or to become a seller, see We Buy Boxes for more information on selling us your boxes.