FAQs: (Box FAQs)
Frequently asked questions (FAQs)
How should I measure a box?
Always take measurements from the INTERIOR of your boxes.
Enter your dimensions in the following order:
Length x Width x Height
Dimensions are in inches. If your measurements are in cm, simply DIVIDE your numbers by 2.54 to obtain the equivalent in inches.
In this example, we have a box measuring 16″ x 11″ x 8″.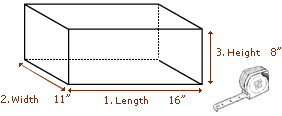 How is box strength determined?
When looking through our cardboard shipping box order forms and featured inventory list, you will see numbers under the column "Test". What does this box information mean? The table shown below shows what each "Test" strength means. When searching a size, make sure you understand the weight of your material(s) and know how your shipment will be stacked, stored and transported, so that the box you choose is strong enough to prevent damage.
The Burst Test (aka Mullen Test) measures the force, expressed in pounds per square inch, required to rupture or burst the side of a cardboard box. This indicates the ability of the box to withstand external or internal forces and how the box will contain its contents during rough handling. Therefore, a box with a burst strength of 125 lbs per sq. inch indicates that the cardboard used to make the box can withstand 125 lbs of pressure per square inch.
Edge Crush Test (ECT) measures the stacking strength of corrugated cardboard boxes. Compression strength is defined by the amount of force, in pounds per square inch, that is needed to crush cardboard by standing it on its edge. For example, a box with an ECT rating of 32 lbs per square inch indicates that the cardboard used in the box, standing on the edge, can withstand a force of 32 lbs per square inch before crushing.
Single-wall Corrugated Board, used in standard boxes
| | | |
| --- | --- | --- |
| Burst Strength (Mullen) | Maximum Weight – Box contents | Edge Crush Test (ECT) |
| 125 PSI | 20 lbs | ECT 23 |
| 150 PSI | 35 lbs | 26 |
| 175 PSI | 50 lbs | 29 |
| 200 PSI | 65 lbs | 32 |
| 250 PSI | 80 lbs | 40 |
| 275 PSI | 95 lbs | 44 |
| 350 PSI | 120 lbs | 55 |
Double-wall Corrugated Board, used in heavy-duty boxes
| | | |
| --- | --- | --- |
| Burst Strength (Mullen) | Maximum Weight – Box contents | Edge Crush Test (ECT) |
| 200 PSI | 80 lbs | ECT 42 |
| 275 PSI | 100 lbs | 48 |
| 350 PSI | 120 lbs | 51 |
| 140 PSI | 140 lbs | 61 |
| 160 PSI | 160 lbs | 71 |
| 180 PSI | 180 lbs | 82 |
What is the difference between a "used" box and a "new" box and a "stock" box on your inventory list?
The used boxes that A Box Broker sells have been used once. These boxes are carefully inspected, one at a time, in order to ensure their quality and cleanliness. Essentially, these boxes have the same qualities as new boxes, at a fraction of the price. Moreover, the new boxes are overruns or misprints – boxes ordered by manufacturers that are extras that they don't need for shipping goods, or the box manufacturer/printer made a mistake in the printing on the box. As these boxes were all originally custom orders, they come in a wide variety of sizes and styles and our inventory changes constantly. Furthermore, stock boxes are standard-sized, unprinted, new boxes that we always carry.
What does the description "short-flap" or "full-overlap" mean?
Most of our boxes are what is known as "regular slotted carton" or RSC. They are the most commonly used carton with both top and bottom main flaps which meet in the middle ready for taping. It is a highly functional design useful in most packing applications. "Short-flap" boxes have a short flap from each side so as to leave a gap in the centre. "Full-overlap" boxes, the lengthwise flaps are also equal to the width of the box. The flaps fold over one another to provide added strength and protection to the top and bottom of the box.
What is a "die-cut" box?
Die-cut boxes are one-piece panels scored and folded together. Unlike regular slotted cartons, they do not have a manufacturer's joint, where two side panels come together fastened with tape, glue or staples. Typical examples include book-fold or book-wrap boxes, often used for mailing books, shoeboxes with tuck-in flaps and many mailer-style boxes.
Where can I recycle cardboard boxes?
Call A Box Broker Inc. 416.744.7258
We will schedule a pickup at your location. We also accept trailer loads should you prefer to deliver to us.